Our Cashmere
The Laundress
Cashmere & Wool Wash
About Our Cashmere
Nothing beats the ever-growing softess and comfort of cashmere. Just like a long-term relationship, if you care for it and show it love, your garment will love you right back forever more! Cashmere is very, very intensive to produce; hence it's status as one of th most luxurious fibres to wear. Spun from the fine, soft undercoat of small goats in Mongolia, it's estimated that on average each animal produces only 150 grams per year!
We speak to the owner & creator Belynda Macpherson, about her brand and her love for cashmere.

Why do you think cashmere is the bees knees?
Cashmere is a versatile yarn - it keeps you cool just as well as it keeps you warm in ther winter months. It will brighten up any day - as well as make you feel really good about yourelf and what you're wearing. 
The 'ply' of a sweater - what is it all about?
This relates to the heaviness of the knit - the number of yarn strand that are used to create it. So we use 4 play for the most of our super-cosy cable knit sweaters. On the other end of the scale are our silk-cashmere single ply garments, like our light-weight crew necks that come in handy to wear almost all year round!

What cashmere pieces do you live in?
Nothing beats a super cosy cable knit in the chilly months. Surfer Crews are my best friend for the transeasons and my fringe gauge crew neck sweaters always come in handy when the sun goes down in the Summer. 
What is the best way to store cashnere?
Store your cashmere folded or rolled in a dry, cool and secure area like drawers. Lavender and cedar are natural moth and bug repellents; so if you have a satchet you can pop this alongside your garments. If you wash your garments with The Laundress, this also has cedar so should help keep away nasty pests.
The do's and don't's of cashmere laundering.
It's a bit of a misnomer that you can only dry clean your cashmere - in most cases, you are actually better to hand or (delicate) machine wash it yourself. However some garments with certain trims, like leather or wooden buttons for example are best to be dry cleaned as per the care label.
Whenever possible, opt to air out your cashmere over washing it. Otherwise, handwash in cold water or pop the garment in your washing machine using cold water on the most delicate cycle. Cashmere shampoos are the ideal detergent - we like The Laundress' formula (which is also biodegradable) and it's money well spent to ensure the longevity of your garment. 
Pilling is normal for a new cashmere; so dont worry if some accumulate (often under the arms or where you carry your handbag). Using a cashmere comb or a razor, very lightly run it along the affected areas and then just shake them out. 
If you wash your cashmere regularly like this, you can expect it to soften even more and it will love you forever!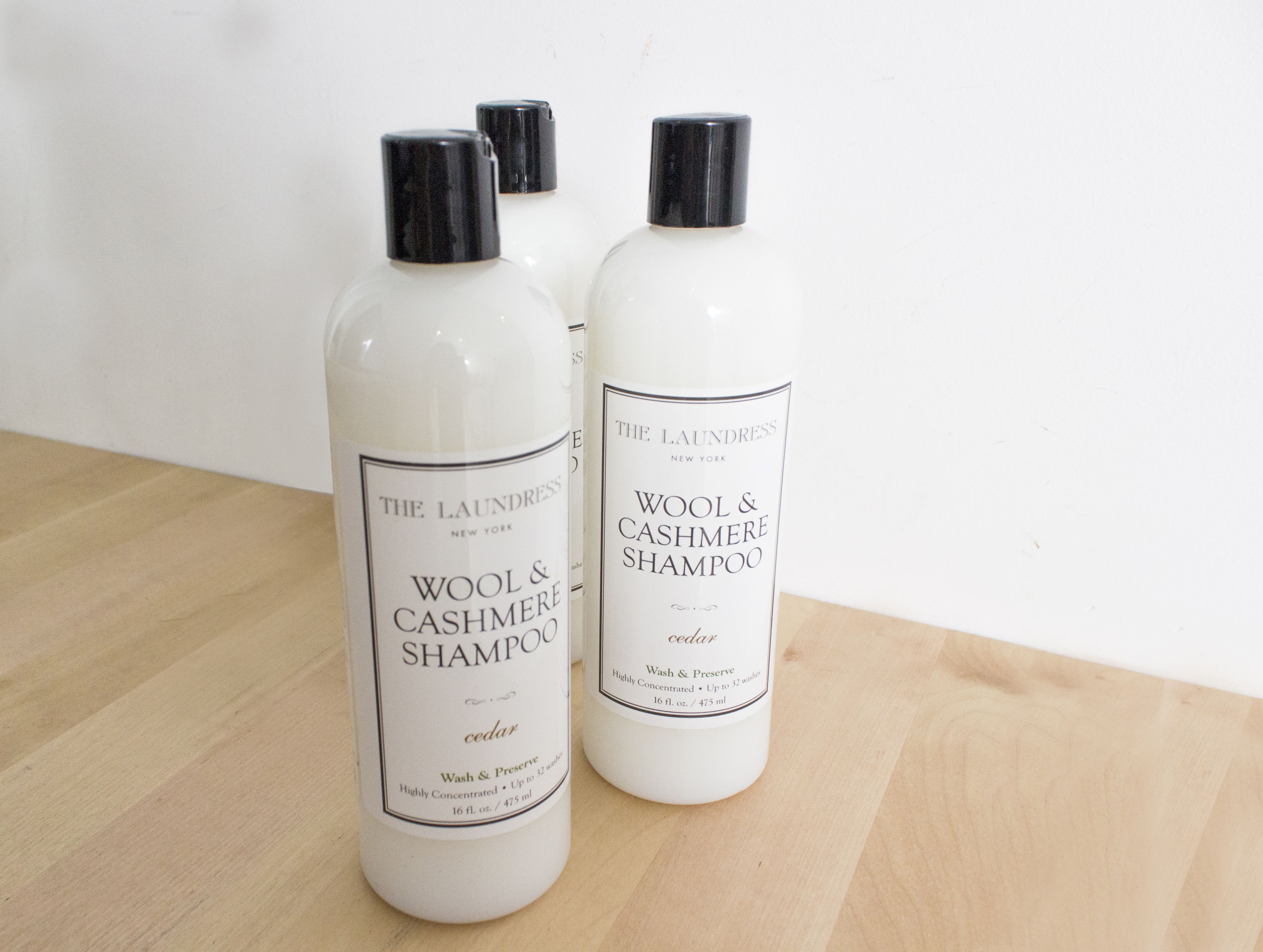 5 CASHMERE LAUNDERING COMMANDMENTS
ONE
Machine wash on delicate cycle or hand wash 

TWO
Use cold water only or it will shrink the yarns = nightmare

THREE
Use a good cashmere wash such as The Laundress

FOUR
Avoid fabric softener - it actually does the opposite for cashmere!

FIVE
Dry it flat in the shade or gentle (!) spin